One fish, two fish, red fish, blue fish….  I made this fishy Dr Seuss Bento in honor of the man because it is his Birthday on March 2 and the kiddos celebrate it at school!  So I will be trying today and next week to give justice to the man who made not only me and my kiddos childhood a little brighter by his writing but the whole world!
Not to long ago when the movie The Lorax came out I also made a Seuss Bento for my kiddo. You can check that one out here  http://mommasays.net/1843/the-lorax-bento/  .
For this cute Dr Seuss Bento I made a basic sammi cut into a circle and added some painted cheese red fish and blue fish. I then just added some bright colored foods around it like carrot flowers, broccoli, cherry tomato, blueberries, orange and a meat flower.
My kiddo could not wait to take a peek at this one because she knew I was making a Dr Seuss lunch for her and she freaked out and gave me a huge hug! My job was done, score one for Big Momma!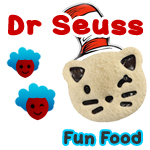 Momma Says:  TIP: Cheese paints ups super easy with food coloring, I use gel mixed with a tad of water and the liquid coloring also. Just don't make it too watery and it will make a nice water color effect on your cheese.
Dr Seuss Bento