I made a tiger today, one of my kiddos favorite animals. My kiddo is not the Barbie girl type she is all about animals, always has been. So this bento is sure to please her WILD side.
One thing I was particularly excited about was I went to Whole Foods and they had tri-colored carrots! WOO HOO, I thought my kiddo will love this. Especially since our carrots we planted all got eaten by bunnies and we did see the seeds online but we thought we will do it next year. I am so happy we got to try them. there are orange, purple and yellow carrots cut into flower shapes with some cherry tomato,a few champagne grapes and meat all to resemble jungle flora. Behind the "grass" of lettuce is a tiger, made on GF bread topped with dairy free cheeses and nori for eyes. The head and features were cut using cuteZcute cutters and the stripes were just free-handed form the cheese.
My kiddo took a peak and was squealing and saying its was so cute, then stole the grapes when I turned to say this is for lunch so dont touch. Now to go buy a special treat for the animals I love in my home for World Animal Day.
Yea I am doing a World Animal Day bento blog hop so make sure you check out my friend Lise at http://www.veggie-bento.com/2012/10/04/rawr-here-come-the-big-cats/  for more cute and fun bento food ideas.
To purchase your own CuteZCute cutter go to :
Check out the website for cute ideas and how to's  and a link to buy it on amazon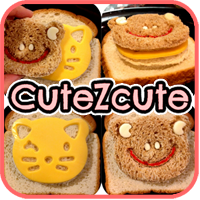 http://www.amazon.com/Cutezcute
MommaSays: Colorful food is always more fun, even if it is carrots!
Tiger Bento